The Riverdale Y hosts a Sunday Market every week at Riverdale Temple from 9am – 2pm
Come for fresh local food, sustainable products, and artisans.
Over the past few years, with your help, we have made the market a central gathering place for the neighborhood.  Thank you for your support!
Get Sunday Market Updates
Riverdale Arts Festival at Riverdale Y Sunday Market
September 24, 10am - 3pm
Riverdale Y Sunday Market is  proud to co-produce the Riverdale Arts Festival.
Join us for local artists, art demos, a children's zone, and live music!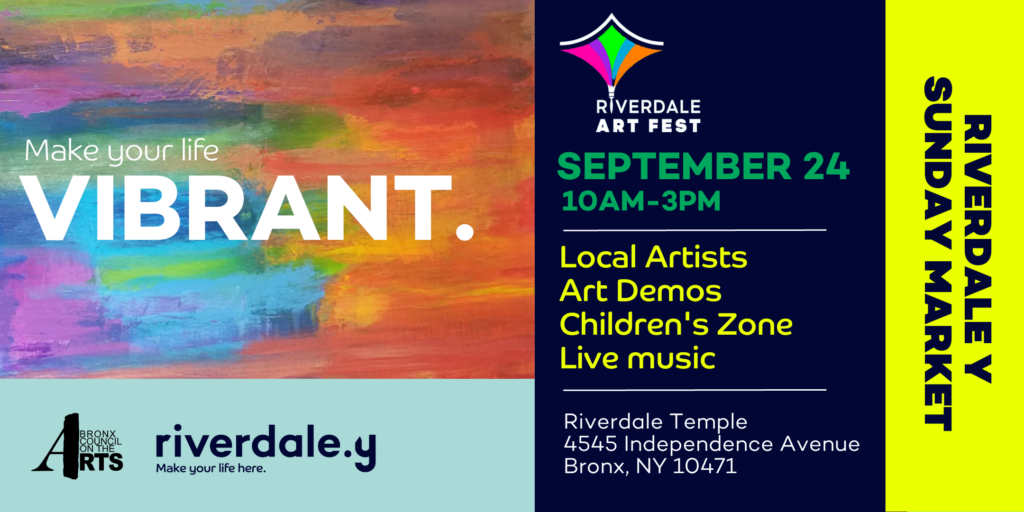 Market Vendors
Artizen
Domingo Wireworks
General Cochran Farm
Minnie's Artisan Jewelry
Sour Humanoid Vinegar
Note: Not all vendors will be at the market each week, so it is especially important to subscribe to our weekly email and join our Facebook group for the very latest information.
Textile Recycling
Green Tree Textiles brings their dropoff bin every Sunday during market hours.  They accept clothing and household linens, shoes, and accessories.
Art for AID
Art for AID takes our random bric a brac, books, and other small items, and turns them into money to donate to charitable local causes.  It's a win-win — we have a place to take our stuff, and Art for AID makes it count!
Join our

 Facebook Group and 

sign up for our newsletter

 for the most up-to-date information about the